I don't know if anyone has heard of a little blog called MomAdvice, but she's pretty awesome. To say the least. I've made many of her recipes and have never been disappointed. In fact, my ultimate favorite recipe is her Pizza Hut Clone Recipe. This is hands down the best pizza dough recipe I have come across. Plus, you just pop everything in the bread machine and let it do it's thing.
Now, why would I go and modify something that is already so awesome? Well, because I'm on a health kick. I wanted to make it a little healthier without changing the taste too much. And I think that I succeeded. Even Dad-oo, Eli, Grams and Grandpa Larry agree that it is pretty tasty. While it may not be exactly the same as the original, it's still pretty tasty. Plus it packs in all of the goodness of wheat germ and whole wheat flour. Without ending up all dry and, well, healthy tasting.
My Health Conscious Pizza Hut-Style Pizza Dough
1-1/3 cups water
2 tsp sugar
1-1/4 tsp salt
2 Tbsp olive oil
2 Tbsp cornmeal
2 cups white flour
1 cups whole wheat
1/4 cup wheat germ (toasted or untoasted)
1 tsp baking powder
1/4 tsp garlic powder
1/4 tsp onion powder
1-1/2 tsp yeast
Add ingredients to bread machine, according to manufacturer's settings. Run dough cycle. After the machine beeps, roll out the dough. This is a lot of dough and you can easily make two 9×13″ pizzas. Or one large pizza and some cheese fries. Or even a few bread sticks.
Preheat the oven to 450º. If you are using a pizza stone (highly recommended) place this in the oven to heat up as the oven preheats. Parbake the crust with a drizzle of olive oil on it at 450 degrees for 10 minutes. Remove the crust and add sauce and toppings. We also add a sprinkle of kosher salt (sea salt would work too) on the crust for an extra flavor boost. Bake for another 10 – 15 minutes or until the cheese is golden and bubbly.
One of our favorite kinds of pizza to make is BBQ chicken. Recipe coming soon.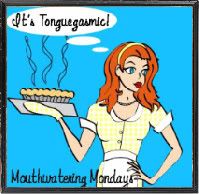 This recipe is part of the Mouthwatering Monday Blog Carnival over at A Southern Fairytale. Stop by for more mouthwatering recipes.
Did you know that you can save my recipes in your very own recipe box, courtesy of ZipList? Just click on the link above, under "recipes" to get started. Want to learn more? Hop on over to read about this awesome new feature.
Related Posts: