[singlepic id=236 w=450]
As you know, I'm trying my hardest to eat health, to set a good example for my son, and to limit sugar from our diets. Nothing crazy-like, I still enjoy the occasional brownie (or eight). But I want to eat to fuel my body, and I want to teach the kiddo to do the same thing.
One of the things that I love is breakfast, yet I don't indulge in normal breakfast foods that often, because, well, they are usually full tasty things that don't really do much. Pancakes, cinnamon rolls, dough nuts. Waffles. Oh wait, waffles came be good for you, and pretty tasty too. If you do them the whole grain way, mix in some fresh fruit and top them with a delish syrup. I was inspired to create this recipe by Mom Advice, (her oatmeal waffles sound fantastic) and I borrowed some ingredient from The Food Network. And I must say, the results were fantastic. These waffles even got the seal of approval from Dad-oo and the kiddo (who at 1.5 waffles!).
Whole Grain, Oatmeal Waffles with Blueberries
2 cups rolled oats (1-1/2 c ground in the food processor, 1/2 c whole)
1 tablespoon wheat germ
1 tablespoon flax seed (ground or whole)
4 teaspoons baking powder
1 teaspoon ground cinnamon
Pinch fine salt
1 teaspoon vanilla
2 tablespoons honey (maple syrup)
1 large egg, beaten
1-1/2 cups milk (I used skim)
4 tablespoons canola oil or coconut oil
4 tablespoons applesauce
~Optional~ Blueberries, raspberries, strawberries (fresh or frozen)
[singlepic id=232 w=450]
In a large bowl, mix together the oatmeal, wheat germ, flax seed, baking powder, cinnamon and salt. In a separate bowl, mix together the vanilla, honey, egg, milk, oil and applesauce.Stir the wet ingredients into the dry until just mixed.
[singlepic id=233 w=450]
The batter will be watery, but it will thicken as it sits.
Pour batter (about 1/2 cup) into waffle iron. Sprinkle fruit if using.
[singlepic id=234 w=450]
Cook until crispy on the outside and cooked on the inside.
[singlepic id=235 w=450]
Top with your favorite syrup. Or my POM wonderful syrup. Serve with bacon (turkey) and eggs for a complete, protein-packed meal.
Note: I did have trouble with these sticking to my waffle iron, if I didn't use a non-stick spray before each waffle.
Hint: If the batter thickens too much as it sits, simple add a little more water to thin it out.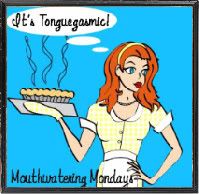 This recipe is part of the Mouthwatering Monday Blog Carnival over at A Southern Fairytale. Stop by for more mouthwatering recipes.
Did you know that you can save my recipes in your very own recipe box, courtesy of ZipList? Just click on the link above, under "recipes" to get started. Want to learn more? Hop on over to read about this awesome new feature.
Related Posts: