In just 4 short weeks, my baby, my sweet cuddly little boy, will turn 2. Two. Years. Old. I still can't even believe that he's here, yet along 2. He's amazing.
What exactly does a 2 year old boy, who is obsessed with balls, want for his birthday? Why Elmo of course. Yes, he's obsessed with balls, but he's in love with Elmo. I'm not sure that it's really a healthy relationship, but it's love. (affiliate links below)
Top Ten Elmo Gifts for a 2 Year Old Boy's Birthday

Soft and Shaggy Elmo
5-6 should be enough to last the year. The kiddos shows his love my biting his current doll. The eye, hands, back of the head. Nothing is safe.

Elmo's Potty Time
If Elmo isn't enough to get the potty training thing a boost, nothing will be.

Elmo Plush Doll Backpack
Although I'm pretty sure that we would have to wrestle him to take it off each night before bedtime.

Elmo's Restaurant
The kiddo already loves to help in the kitchen, maybe Elmo will inspire him to cook us dinner too?

Gazillion Bubbles Elmo Motorized Bubble Blower
Elmo + Bubbles = Love at First Sight. Plus, I love the word gazillion.

Elmo Trike
How cute would he be peddling around the sidewalk this summer?

Elmo's Rock & Roll Guitar
And when it gets too annoying for Momma, the batteries will suddenly stop working. Strange how that happens.

Elmo & Friends Look and Find
Because he mastered his Mickey Look and Find in about 1 hour.

Elmo Slipper
Cute, cute, cute.

Elmo's World Box Set: Best of Elmo's World Two
No further explanation needed.
What special gift would your 2 year old boy or girl want?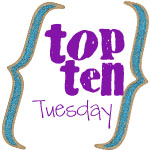 This blog was inspired by Oh Amanda's Top 10 Tuesday's Blog Carnival. Head on over for more Top 10 Lists.
Did you know that you can save my recipes in your very own recipe box, courtesy of ZipList? Just click on the link above, under "recipes" to get started. Want to learn more? Hop on over to read about this awesome new feature.
Related Posts: