It's no secret that moms and dads are good at different things. I mean, it's almost like we're completely different people. Strange, huh? So, in tribute to Dad-oo himself, the top 10 reasons that he is a better father than I ever could be.
He's a much better fort builder.
He rough houses with the best of them.
He's much more willing to make a fool out of himself that I am. (In a good way.)
He enjoys playing with the kiddo and his balls.
He's much more patient that I am. Especially during meals with the kiddo refuses to eat, has a fit and is just plain acting sassy.
He can do big, scary voices much better than I can.
He can monster step around the house better than I can.
He is oh-so-proud when the kiddo specifically requests duct tape, while I would just roll my eyes.
He will tackle just about any sport with enthusiasm, and will someday be a great coach.
Tantrums don't even phase him.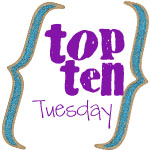 This blog was inspired by Oh Amanda's Top 10 Tuesday's Blog Carnival, which is being hosted by It's Come 2 This this week. Head on over for more Top 10 Lists.
Did you know that you can save my recipes in your very own recipe box, courtesy of ZipList? Just click on the link above, under "recipes" to get started. Want to learn more? Hop on over to read about this awesome new feature.
Related Posts: