For our last anniversary, Dad-oo treated me to my very first bread machine. I know, romantic isn't?
Actually, that's what I asked for, and it is one of my favorite anniversary gifts every.
Since I've had the bread machine, I've kind of turned into a bread-making freak. I use it at least twice a week, sometimes more if I'm really in the mood for some carb-loaded goodness. Bread, dinner rolls, hot dog buns. Pizza dough, cinnamon rolls and English muffins. Mmmmmm, now I'm hungry.
I've been experimenting with a bread recipe for the last couple of months, trying to perfect it so I could share it with everyone. Now, it's finally ready. Tada! A healthy, whole wheat bread that isn't too heavy, with a slightly sweet and nutty flavor. And when it's fresh from the oven, it makes a killer PBJ.
[singlepic id=245 w=300]
Just pop in the wet ingredients.
[singlepic id=244 w=300]
Then add the dry.
Set the program, and in a few short hours, your bread is ready. Plus your house smells heavenly.
[singlepic id=246 w=300]
Flax Seed Bread, Whole Wheat and Wheat Germ Bread
2-pound loaf – mix ingredients int he order recommended by your bread machine

1-1/2 cups water
3 tablespoons canola oil
1/4 cup honey
2 cups bread flour
1-1/2 cups whole wheat flour
1/2 cup toasted wheat germ
1/3 cup nonfat dry milk
3 tablespoons falx seed
1-1/4 tablespons gluten
1-1/2 teaspoons salt
2-3/4 teaspoons bread machine yeast
Mix the ingredients in the pan according to the order recommended for your bread machine. Set the crust on medium and program for the Whole Wheat cycle (or Basic cycle). Press start. This recipe may be used with the Delay Timer too.
When the baking cycle ends, immediately remove the bread from the pan and place it on a rack. Let cool to room temperature before slicing.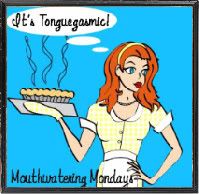 This recipe is part of the Mouthwatering Monday Blog Carnival over at A Southern Fairytale. Stop by for more mouthwatering recipes.
Did you know that you can save my recipes in your very own recipe box, courtesy of ZipList? Just click on the link above, under "recipes" to get started. Want to learn more? Hop on over to read about this awesome new feature.
Related Posts: