About a month and a half ago, I was inspired by Jenn at Frugal Upstate to try her recipe for overnight, slow cooker oatmeal. I'm not usually a huge oatmeal eater, but knowing that it's so healthy, I thought I would give it a try. What's the harm, right?
Well, I followed this recipe and as you can see from many of the comments, it just didn't work. Mine ended up looking more like brown sugar water with a few oats floating in it, than oatmeal. I was able to salvage it, but cooking up 2 more cups of oatmeal and mixing it in. But over all, the recipe was kind of a disappointment, and just a little bit embarrassing for Jenn.
Jenn decided she needed to figure out what went wrong. So she started The Great Oatmeal Experiment and invited some bloggers to join her. I, of course, gladly accepted.
[singlepic id=252 w=450]
I started out with the same basic ingredients, in slightly different quantities.
[singlepic id=253 w=450]
Mixed everything together and let the slow cooker do it's thing. And…
[singlepic id=255 w=450]
Tada! Tasty overnight oatmeal.
I proclaim this recipe a success. The oatmeal still has a fair amount of liquid in it (but not watery), so if you like yours a little dryer, you might want to increase the amount of oats you use by 1/2 cup. But otherwise, this was a very tasty way to start my Monday morning.
Overnight Slow Cooker Oatmeal
2 cup regular oats – NOT Quick Oats (add 1/2 cup more if you like dryer oatmeal)
4 cups water
1/2 cup milk
1/4 cup brown sugar
1  tablespoon butter
1/2  teaspoon vanilla extract
1 teaspoon cinnamon
Combine all of the ingredients in your slow cooker. Cook on low for 8 hours. Serve with milk and cinnamon sugar.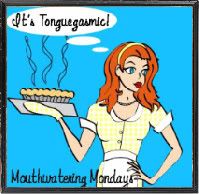 This recipe is part of the Mouthwatering Monday Blog Carnival over at A Southern Fairytale. Stop by for more mouthwatering recipes.
Did you know that you can save my recipes in your very own recipe box, courtesy of ZipList? Just click on the link above, under "recipes" to get started. Want to learn more? Hop on over to read about this awesome new feature.
Related Posts: