A few weeks ago I stumbled on this wonderful recipe for homemade crackers by Kitchen Stewardship. I couldn't believe how easy they were, so I decided to test the out, with a few variations. I'm always looking for more ways to add wheat germ and flax seed into our daily diets, and this was the perfect opportunity. These crackers were so tasty that the first two batches disappeared in like 3 days. I'm not kidding. These crackers are so good that I swore I would never buy another box of store-bought crackers again.
Of course I did, because I was lazy one week. I quickly realized that they were not nearly as good as my homemade crackers. Not only that, but the store-bought crackers are full of preservatives, corn oil and other unhealthy things that you wouldn't expect to find in a "healthy" cracker. I'm trying my hardest to reduce this kind of thing from our diets, so I'm back to proclaiming that I will never buy another box of store-bought crackers again.
[singlepic id=282 w=450]
Homemade Crackers (kind of like Wheat Thins)
Thanks to Kitchen Stewardship for the original recipe and inspring me to try my own version.
2 cups whole wheat flour
1/2 cup wheat germ
3 tablespoons flax seeds
3 tablespoons honey
1 teaspoon salt
1/2 teaspoon paprika
1/2 cup olive oil
1/2 cup water
1/2 teaspoon vanilla
Mix the whole wheat flour, wheat germ, flax seeds and paprika. Add the oil, water, honey and vanilla, mix until smooth. I normally use my hands, it's faster, and kind of fun.
Preheat the oven to 400º. Pop in your baking stone to warm with the oven. If using a baking sheet, lightly grease (no need to preheat the baking sheet). Divide the dough into 8 balls. Take one ball and roll it out on the stone. Get it as thin as possible, the thinner you roll it the crunchier your crackers will be. I use a pizza cutter to cut the dough into squares about 15 inches wide. Well, actually they usually end up more like rectangles, but the shape isn't really that important. If you want, you can add the oddly shaped edges to one of the remaining dough balls. Or just bake them, and snack on them as you are cooking. Someone needs to test the afterall. Sprinkle the dough lightly with kosher salt.
Pop the crackers into the over for 5-10 minutes. 8 minutes is just about perfect for me. You will know they are done when the edges are very lightly browned. The edges cook faster than the middle, so you may need to remove these and let the rest bake for a few more minutes. Keep a close eye on them, they can burn quickly.
Once cool, store the crackers in an air tight container.
One of the things I love about Kitchen Stewardship original recipe is that it's so easy to vary it. I've made cinnamon sugar crackers and I'm thinking of trying some garlic and olive oil crackers. The possibilities are, seriously, never ending.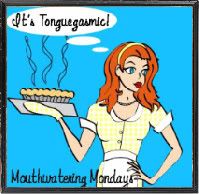 This recipe is part of the Mouthwatering Monday Blog Carnival over at A Southern Fairytale. Stop by for more mouthwatering recipes.
Did you know that you can save my recipes in your very own recipe box, courtesy of ZipList? Just click on the link above, under "recipes" to get started. Want to learn more? Hop on over to read about this awesome new feature.
Related Posts: