Dad-oo is making yet another guest post appearance today. He's talking about his speciality: the Birthday Pancake-Cake.
Eli's second birthday was last week and even though he had two other full days to get spoiled rotten and filled with sugary garbage I (Dad-oo) felt that if he didn't consume some sort of cake-like creation on his birthday the world would implode.
Nerd Note: There was a good chance the world would implode anyway.  The mad scientists over at Cern decided to reactivate their doomsday device  on the 30th as well.  Coincidence?  Probably not. Oh, if you don't know Cern, they are the group responsible for creating the Large Hadron Ion Collider (LHC), the machine many thought would turn the Earth into a black hole when activated.  You may have heard about it in the news; if not I'm probably boring you with science stuff so I'll get back to the Pancake Cake.  If you don't know if the LHC turned our planet into a black hole check out www.HasTheLHCDestroyedTheEarth.com.
Getting back to the point I, the proud creator of the Pancake-Cake, again utilized my culinary skills to cook and assemble a dessert that Eli would very much appreciate and NOT just mush up into unrecognizable fistfuls of  sugary clumps and jam into his mouth.
A quick refresher course in Pancakecakeology (that was subject of my college term paper):
Mix and cook some delicious fluffy pancakes.
[singlepic id=305 w=450]
Layer the pancakes and put jelly in between each layer.  I used strawberry jelly and three pancakes.  Last year I used two pancakes.  I plan on using one more pancake every year so his 40th birthday should be LEGENDARY.
Make sure the edges match somewhat for easier frosting.
Frost the bajeezus out of it.  I used both chocolate and vanilla frosting.
[singlepic id=306 w=450]
I ended up making Eli a Zen Pancake-Cake because Eli is so into calm meditation and self reflection.
[singlepic id=307 w=450]
We presented the Pancake-Cake to Eli
He fully appreciated the hard work and creativity that went into…ok, he mushed it up into unrecognizable fistfuls of  sugary clumps and jammed it into his mouth.
[singlepic id=308 w=450]
Pancake-Cake
3-5 pancakes, using your favorite pancake recipe (or this Whole-Grain Oatmeal Blueberry recipe would be great too)
Strawberry, raspberry, grape or your favorite jam
White and chocolate frosting (from the can is fine, or try perhaps this recipe for The Best Frosting I've Ever Had)
Sprinkles – optional
Cook 3-5 pancakes, approximately 4″ round, according to the recipe. Place one pancake on a plate, spread with the jam of your choice. Repeat layers with the remaining pancakes. Once the cake has been assembled, cover with frosting. Decorate as you wish (sprinkles are a nice addition).
Finally, present to the not-so-patiently waiting birthday boy or girl. Watch their eyes light up as their face is instantly covered in frosting goodness.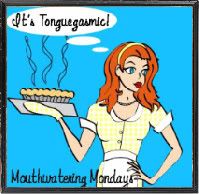 This recipe is part of the Mouthwatering Monday Blog Carnival over at A Southern Fairytale. Stop by for more mouthwatering recipes.
Related Posts: