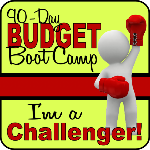 OK, so last week's boot camp was a success. I made a meal plan, and stuck to it. Although, there always seems to be at least one meal I don't get to. Last week I forgot to plan for our dinner at the local Rib Fest on Saturday, which was SO YUMMY! We some how lucked out and missed the rain, but arrived before the lines got too long again. We couldn't have planned it any better if we had tried.
Anyway, this week's 90-day budget boot camp challenge was to make a grocery list and to stick with it. No extras. No impulse buying. No chocolate bar at the register that was screaming my name. Mummy Deals has a ton of reason why grocery lists save you money, but my favorite is this:
A list is a way to cut down on huge amounts of impulse buying. Recent research showed that 20% of what we buy is unplanned but that number is decreased if you write it down and stick to the plan.
When you are watching your budget, 20% is a lot. At the end of the month, that's almost one extra trip to the grocery store. Or a dinner out. Or going to a movie. Or stashing it away for a rainy day or college fund.
I thought this would be pretty easy for me, since I already make a list for ingredients that I need for meals. The part that caught me by surprise was all of the other items that I buy, those necessities for each week. I hardly ever write them down. I just know what I need and throw them in the cart as I go by. Not really a good plan, since it's super easy for unneeded items to make their way into the cart.
So I thought long and hard about this week's needs. I made my list. Then added to it. Then went through my coupons. Added some more. Over the course of Sunday and Monday morning I thought I had everything pretty well covered. For the most part I did.
There were only a few items that I forgot to include on my list, but I purchased anyway. But these are staples in our house, so I let that slide. It was just an oversight on my part when I was making the list.
But the thing that put me over, was produce. I had written down what I needed, which will be purchased from the farmer's market early this week. But Aldi was having some fantastic sales on fruit, like they normally do. I had vowed not to buy anything other than what was on the list for the farmers market, but I just can't resist a good deal on fruit. Especially the summer fruit that I can only enjoy for a few months out of the year.
Over all, I think that I did pretty well, although not perfect. But I learned a lot about my shopping habits which I think over time will help me continue to reduce our grocery budget. So, here's what I learned this week:
I'm not a big impulse buyer in general. Which is a good thing. It wasn't painful not to add that bag of M&M's to my cart, because it's not something that I normally by, with or without a list. When I do have an impulse buy, it's something like a bottle of flavored water for $0.69. I'm not really a big spender.
My biggest weakness is a good deal, especially on produce. Normally on things that we buy anyway, but may not need that week. Although sometimes it is on things that we rarely buy, but is such a good deal, that it seems like a nice treat for the family.
I LOVE the ZipList app for my iPod (soon to be transferred to my iPhone – it's coming on Thursday!). Seriously, I don't know how I ever shopped without it. Plus, Dad-oo can add things to it, so he doesn't have to rely on my remembering, and it's automatically updated. I can include things like prices, coupons and even organize items by the store I will be purchasing them. And no, I was not sponsored to say any of this (but I should be, don't you think?)
The farmer's market eats into our budget this time of year. With all of the good deals in stores, and all of the super fresh and delish produce at the farmer's market, it's nearly impossible to stay within our budget (or the budget that I try to stay within – we're coming up with a realy budget this weekend).
I'm getting better with coupons. For instance, this weekend I found milk on sale at the grocery store for LESS than it is at Aldi. But I think that I still have a lot to learn.
After the farmer's market this week, I will have spent about $60. While this is under what I had originally thought (we had planned on going raspberry picking, but missed the season), I'd still like to keep it down around $50.
I love how Mummy Deals allocates her budget: $30-35 for food needed that week. The rest is set aside for staples and stockpiling with coupons and sales. I need to get better at doing this.
Since I make most of the food that we eat, including snack foods like granola bars, graham crackers, and snack crackers, our budget isn't eaten up by unnecessary snacks. It goes towards flours, spices, butter, etc. Which, to me, always seems like a better value.
I need to check my supplies before I head out. Often I'll add an ingredient to the list, knowing that we might have it in the house. Then I forget to check before we leave, and just buy it again. That's how we ended up with 4 cans of black beans and 6 cans of tomato paste. Yes, they will eventually all be used, but it would have saved on our budget that week if I had checked first.
Finally, I like saving money (big surprise there). I like having a plan and sticking to it, most of the time. Sometimes it feels too confining. But I think for groceries, keeping a very detailed list  will help me keep better track of where our money goes.
Do you make a grocery list? Do you normally stick with it, or do you just write down the things you don't want to forget? What items end up in your cart as an impulse purchase?
This post is proudly linked up with Top Ten Tuesdays over at Oh Amanda.

Did you know that you can save my recipes in your very own recipe box, courtesy of ZipList? Just click on the link above, under "recipes" to get started. Want to learn more? Hop on over to read about this awesome new feature.
Related Posts: